Written for creative people like you, this book will help you better understand how to protect your work at a time when your creative projects are especially vulnerable to copying and theft!
Copyright for Creatives is a practical, real-world-oriented look at how copyright law impacts real-life, everyday creative people, written with them in mind. It's designed to specifically address the concerns, challenges, and copyright interests of makers: artists, crafters, dancers, writers, hobbyists, photographers, multimedia content creators, musicians, and more—all sorts of creative people who create things.
The book provides common-sense guidance that can be quickly applied by creative individuals to ensure that their work is protected, and that they don't violate other peoples' intellectual property rights along the way.
"If you're a creative person, you need to read this book!"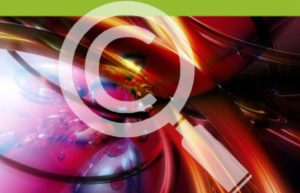 NEWS & UPDATES!
Copyright law isn't carved in stone. It's constantly changing and evolving based on legal decisions, new laws, and the challenges of new technologies.
I'll keep you up to date on the latest interesting, intriguing, and important changes to copyright law, so you're always the first to know how to protect yourself, and what you can do with other peoples' stuff.
This is also where you'll find updates to topics covered in the book, because copyright law is changing all the time.
THIS WEEK:
Haters gonna hate hate hate hate hate…Swift says Don't Blame Me if there's Bad Blood with 3LW
PAST UPDATES
CopyrightForCreatives @cpyright4crtvs
The author is happy to answer your questions about copyright law generally, the "Copyright for Creatives" book, or other relevant topics. Just email me!
Note that the author is not providing or offering legal advice. Responses to email are only the author's personal observations about the law and how it may apply to your specific question. If legal advice or other expert assistance is required, you should contact a competent licensed professional.
LEGAL STUFF
THe book, "copyright for creatives," and this website, do NOT CONSTITUTE LEGAL ADVICE. while both the book and website are intended to provide accurate information regarding the subject matter covered, they are published with the understanding that the author, publisher, and distributors are not engaged in rendering legal or other professional services. If legal advice or other expert assistance is required, you should contact a competent professional person.
Copyright © 2022 by Evan M. Butterfield. All rights reserved.
No part of this website's content may be reproduced or transmitted in any form by any means, electronic or mechanical, including photocopying, recording, or by any other information storage and retrieval system, without the express written permission of the author, except where permitted by law.